Business transformation programs driving at an unprecedented pace to improve the business space. Resource allocation is an important factor in developing a business. When planning a new project, the preliminary task is to evaluate its scope and to allocate the resources accordingly. This is an essential prospect for business optimization and company growth.
Outsourcing is considered as a well-rooted practice both in our professional lives and daily routines. For example, we call plumbers to fix the pipe issues, order food from online delivery apps and even pay people to look after children when we're away. However, outsourcing in corporate sectors allows the business to distribute assets more effectively, achieve core competencies, and widen the product portfolio with saving the resources.
Outsourcing software development is not like just confined on offshoring to third world countries, but to bring the business into the next level. In today's world of apps and software, user experience is the key to success in any business. Here in this article, we will discuss how outsourcing software development transforms and revolutionizes your business.
What was the state of software development outsourcing?
Since the past decade, many enterprises and software organizations are experiencing a rising demand for qualified software developers for growing their businesses.
Many developed countries face a challenge in finding skilled resource in technology. They also face serious concerns due to the expensive amount of resources and skilled manpower. Moreover, multiple issues connected with business development occur irrespective of the business' size whether it is a start-up, mid-level enterprise, or a large scale company. The entrepreneurs always in search of qualified specialists with good knowledge, creativity, and flexibility. To encounter these alarming signals, the outsourced software development came into the picture and has become a trending industry.
 Look at these market size of outsourcing software development services from 2000 to 2018 according to Statista.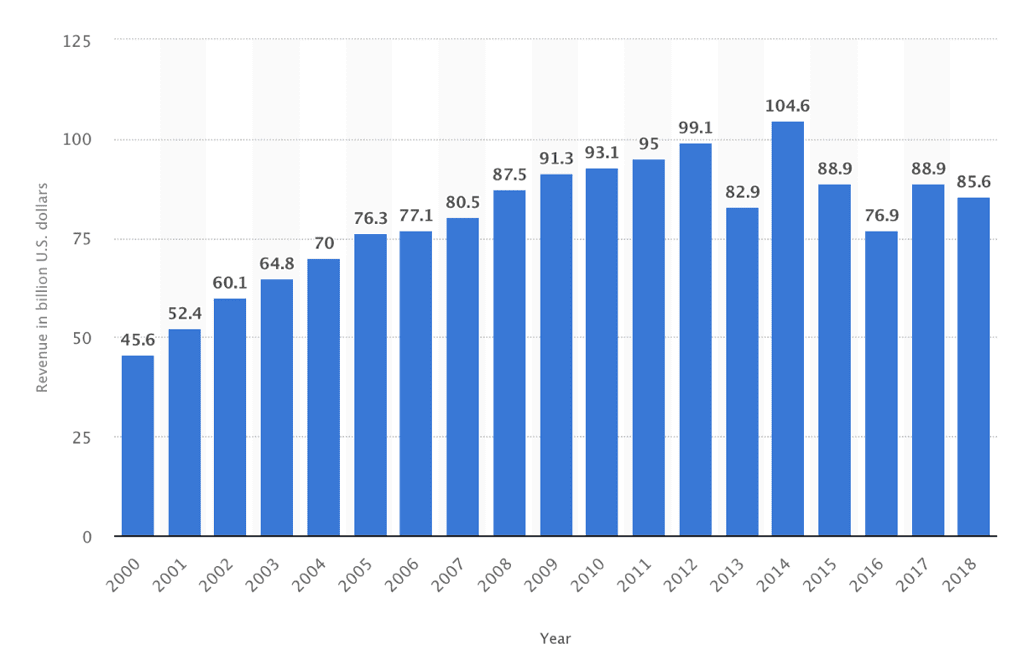 Benefits of outsourcing software development:
Time is crucial: Get your products to market even faster
How many times have you heard about the penetrating words from your employees: This will take a few more days to complete the project: We are trying to meet the deadlines: Often right? You're not alone. However, you have to constantly manage these things to cope-up with your competitors and to be on the edge. To reach an edge in the dynamic competitiveness environment, timing is the key factor.  
As we know, software development is a prolonged process that requires attentive care in every step. If your internal programmers don't finish a project before the deadlines, the sales & marketing department will face bottleneck to launch the new products to the market. In turn, the whole pressure comes under the coders to get ready for the product.  At this time of adding a few coders into the team will prove priceless for the company.
To overcome such things in your company, outsourcing software development helps with a rapid effort, adaptive planning, and timely delivery. Most businesses require the need for speed to leverage their competitive advantage. There is no point of dependency on the in-house resources for a product launch. The software outsourcing team will provide the services timely and in accordance with the schedule. With outsourcing the software, your application is guaranteed to have a timely market delivery. This obviously improves the effectiveness of your product.
 

Diverse technological advances: Access to the latest technology
Technological partnership with a good software development outsourcing company provides a perfect business relation along with maximizing the profit. This is because one needs a robust software as a fundamental foundation for the company. The loyal users, successful marketing elements, and sales of products will completely depend on a great software product.
To get exposure to global talent, many countries outsource software development. They need expertise in new skills and techniques that cannot be demanded in-house because of huge resource allocation.
The business will get a brand effect across the world by expanding technical capabilities and broadening the horizon. This provides additional relaxation as the whole development to deployment is being taken care of by the outsourcing companies. With the advancement of technology, you can rather focus on marketing. You will get enough time for managing the resources and project.
The software outsourcing partners not only saves time and money but also bring innovation into the process. It is very hard to keep up with all the tech trends, but a software development partner can help you to take your product into the next level by leveraging cutting-edge technologies.
Cost Savings: Reduced cost lead to maximize profit
When you think of outsourcing software development, you will find a substantial difference in wages in developed and developing countries. Most developed countries believe to outsource their software to minimize their expenses.
There are many economically strong countries that provide top-notch services with a marginally lower cost. Instead of spending dollars of money on their own programmers, they can get the same quality service for half of the price. The companies can save almost 30 to 35% on operating costs by outsourcing their software development. 
The companies just need product quality while offshoring to developing countries. Also, companies can save a bulk amount of money in the form of employee salary and many resources when they outsource.
Streamline your business process: Focus on your core expertise in organization
Many companies often neglect the core expertise and constructive vision that brought them success. Either that may be a distinctive service, unique business model, or a better idea that helps to distinguishes it from the crowd from its competitors.
It's better to focus on the core competencies that will increase the growth factor. For example, if coding is not your cup of coffee, and you are well suited with advanced marketing skills, then choose the best option for outsourcing your software development. Then start focusing on your marketing skills without wasting valuable time and money.
Even if you invest in hiring skilled IT engineers and manage the projects simultaneously, it will only result in late product release and delay in project submission in the workspace. Regardless, you can speed up your time in the market if you are outsourcing the projects. Thus, most start-ups, mid-sized companies, or even large scale companies tend to outsource to generate the highest value. It allows them to allocate their assets and prevent from wasting the resources. 
In today's time, businesses need innovative tricks for development in order to survive in the market. The outsourcing of software development enhances and strengthens the core process. The in-house team will get more alignment towards business with more strategic goals. This will help in streamlining the business processes.
Better efficiency and higher effectiveness:
People often think when they conjointly hear the words outsourcing and quality. The quality of the software will completely depend on the providers. Thus choosing a better outsourcing service is necessary.
Good software contractors follow the effectiveness and quality assurance to meet customer requirements. They work deliberately for you and your clients to identify the needs of your customers.
By allotting all the related components of your business to an outsourcing vendor, you are free from resources, time, funds, and other needs associated with the project which in turn make your business more effective.
Outsourcing software development to a third-party vendor will free up a few assets and streamlines better infrastructure. Outsourcing partners hire skillful and experienced professionals to their teams. Taking advantages of your outsourcing partner's experience will sail to a successful product.
Provides flexibility:
Outsourcing software development saves the recruiting, hiring, and training time for your projects. You need not worry about the scaling your employees in case the labor size changes for different projects. 
Final Words:
Software outsourcing maximizes flexibility. It is a great option to outsource software development projects to get the digital transformation and growth of a business. It also increases profit while reducing risks. If you want to achieve the software development goals with cost savings and project success, find a better outsourcing services company that offers digital innovation.