Appreciation at work is something that is very crucial for an employee to confirm if their work is valued at the organization. For a company, it is about timely recognition of an employee's behavior, effort or business result that supports its goals and values, clearly beyond the normal expectations.
At Instarama, we strongly believe that the employee happiness and growth have a direct impact on how we function, and therefore help us to clearly determine where we stand in our journey. Hence, we decided to evaluate our employees based on various factors such as discipline, target closures, ownership, new initiatives and team work, and have the "best performer" award given to them each month during our all hands meeting.
In the recent all hands meet that commenced on 11th September 2018, we had a discussion on the August month's marketing and sales achievements, the targets for the month of September, product upgrades, feedback and had the "best performer" for the month of August 2018.
Best Performer for the Month of August 2018
It is never easy to closely analyze and judge the highest overall performer, especially among employees with infinite zeal like at Instarama. Hence, there was a stiff competition between the employees to bag Instarama's first "Employee of the month" award.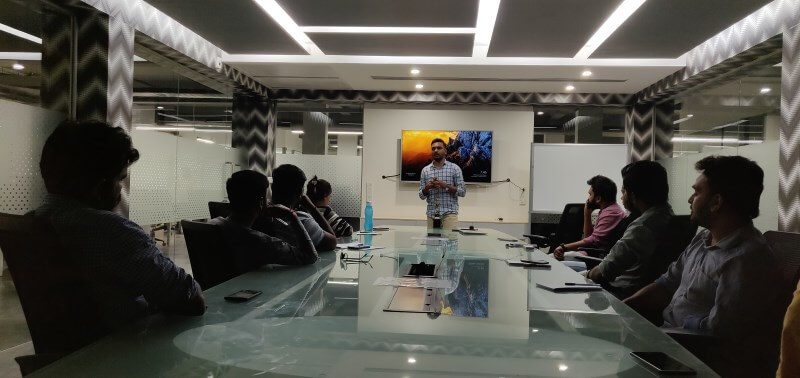 Among the top three nominees were Tanmay Sarkar (for his work in taking Adent to new heights by employing new and strategic marketing tactics, playing a vital role in helping Instarama to structure their workflow), Yadhunandan (for his work in increasing the revenue and client acquisition rate for StreamHash with new and streamlined strategies, and also taking care of StreamHash's post-sales, integrating with the developers to deliver the customer requests and clearing their queries in-time) and Sharmila Panda (for her impeccable rate of punctuality and discipline, and for her work  in improvising the quality traction of visitors to PushMaze).
Closely evaluating the nominees based on various factors, it was Yadhunandan who seized Instarama's First "Employee of the month" award, whose sole efforts for StreamHash were definitely to be appreciated and every employee felt that he strongly deserved it due to his unparalleled dedication. Congrats Yadhunandan!
Marketing and Sales Accomplishments
Adent saw over 15% increase in their overall traffic in August'18 as compared to that of July's. Social media witnessed a growth of over 120%, and referral traffic went up to 85% for Adent. Other modes of visitor traction like Organic and Quora also saw an incline with a small downfall in direct traffic. There was an increased engagement seen from the audience in UK and Canada. Among its products, xCams and xStreamer had the highest number of Sales, and xMember and xModes had an increase in the number of enquiries as compared to that of July's.
With the keyword ranking going up, PushMaze too saw an overall increase in the visitor traction from all the channels. ShopyGen's direct traffic rose up, and StreamHash witnessed an increase in the number of interests shown in the website through signups. The highest audience engagement rate for StreamHash, PushMaze and ShopyGen were from the US market. Among StreamHash's products, StreamView was the most popular, making the maximum Sales numbers.
Targets
Continuous betterment in product enhancements, sales and marketing numbers in August as compared to the month of July has obviously brought in higher expectations for September 2018. Adent's expectations are to increase the overall number of website visitors by 15% and prospects an upsurge in the signup rates. ShopyGen looks forward in employing highly segmented targeting strategies to improve the quality of visits and enquires by at-least 20%. StreamHash focuses on improvising the website traffic from its social media, direct and organic sources.
Product Upgrades
Adent is working on launching its new product xTalk, and xMarketplace's revamped version is expected to launch by this month. For StreamHash, the main upgrades were on StreamView (Options for category subscription, Offline video access in mobile application, RTMP live streaming and adaptive streaming) and TubeNow. ShopyGen is working on optimizing its service marketplace clone script Gentack, with enhanced accessibility features and the version 2.0 is expected to launch soon.
Feedback and improvements
There were personalized UI customization requests from some of Adent's clients for xCams and xStreamer.