The influence of a right workplace on creativity and innovation among employees is exceptional. Well established companies like Google and Facebook, when they started had only one thing in mind. To give their employees a space that can naturally enhance collectiveness and effective communication. 
As a leading turnkey solutions provider, Instarama's recent relocation was a strategic move to create an ideal work culture for employees, helping them pour innovative ideas and take the company to newer and unseen heights.
Work-life balance or work-life integration?
"They say there should be a proper work-life balance. But, for us, it is about work-life integration, because at the end of the day, it comes down to how worthwhile the time we spent was" – Says Srivathsan GK, the CEO of Instarama.
The current workspace provides diverse options for the employees. When they are stuck with something, taking a break for a game, or having a casual espresso conversation in the lush green lawn can help to refresh the minds in a moment.
"We come to work, to see our friends, discuss and have fun here. And most importantly, we enjoy our new workplace" – Say the employees at Instarama.
Workspace upgradation doesn't just mean relocating the resources and amenities but will have a comprehensive impact on all the aspects of how an organization as-well-as its individual's work. 
When asked Abiwad, who is the COO at Instarama, he says that "We look at our team as real people, with ideas, aspirations, accomplishments and challenges, within the workplace, as well as outside of it. They are not means to generate business results, but a formidable resource that needs to be nurtured in order to deliver on what's expected from them as employees." 
As a budding firm that offers turnkey solutions for multiple industry verticals, it is very essential to have an environment that provides enough resources that keep the employees' minds fresh, helping them spark new, innovative ideas, and Instarama's new workplace definitely fulfills it. 
"An employee spends a majority of his/her 24 hours in his/her workplace. Hence, it is of utmost importance and we have made sure that the current workplace includes all the elements of fun, support, openness and care. In fact, we have witnessed an active participation, collaboration, work distribution, and team spirit after creating a positive environment for them to work on." Says Binesh, who is the CMO at Instarama.
A game a day can keep the stress away!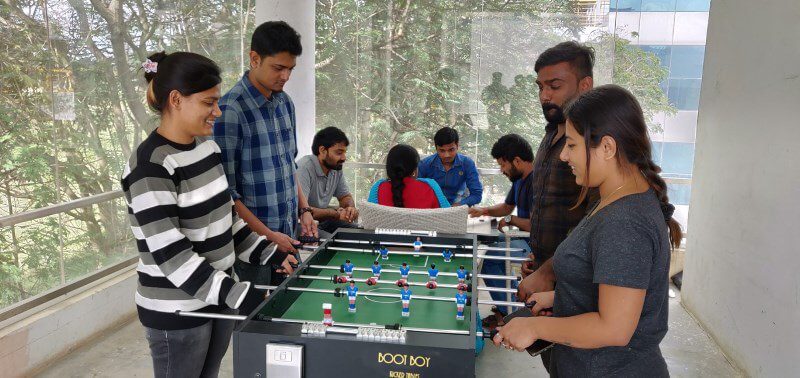 'Stress' is an important factor to consider wherever there is innovation involved. A research says that playing games can impact the brain positively by increasing motivation, improving memory, drive efficiency, and even enhance the empathy in your team. Instarama's new workplace provides multiple indoor game activities like table tennis, foosball, and carom and are accessible to employees anytime during their work hours.
Socialize and encouraging friendships
Having moved into a workspace where multiple organizations work, Instarama encourages its employees to develop a culture of 'compassionate love', where they can see how other teams and organizations function, take and give motivation to them, care and share. Also, there are frequent employee-engagement activities conducted in the workplace where they can team-up and interact with other employees.