Opportunities for business expansion in the present day digital world are aplenty. Every business requires a website to display its content. The world is shifting to an era where the usage of mobile devices shall no longer be confined to just towns or cities. For all intents and purposes, mobile devices shall be used in every village. The big question is – Should companies focus on the development of their apps and lay emphasis on the so-called 'chatbots'?
MOBILE APPS IN THE MARKET
It would be a fallacy to admit that the attention towards apps or chatbots is less. It is indeed a wrong perception that no one cares about apps. There is a good chunk of people who pay attention to apps. That being said, the odds in favor of your mobile app adoption by your target audiences are very low. This applies to the mobile apps of core companies as well. Thousands of fresh apps hit the Android and iOS app stores every month and needless to say, many are duds.
Mobile apps require new features which do not mirror website content. If your app displays the same content with the same features manifested in your website, then it makes little sense to develop a separate mobile application. It just makes sense to develop a mobile-optimized website by using Bootstrap framework.
Facebook, the largest social networking site, developed different apps integrated with the Facebook chatbot, and messenger chatbot to ensure a better experience for the consumers in both social networking and private networking. For the better reception of your apps in the market, extra features should be added. And yes, mobile apps should be updated frequently by the developers. Updating an app is expensive and time-consuming.
Platforms which facilitate team collaboration and communication such as Skype have already done a lot of business development by creating dedicated messaging chatbots and video calling mobile app. Billion plus users are already using this service. And yes, Skype for business is in the good books of corporations.
Chatbots vs. Apps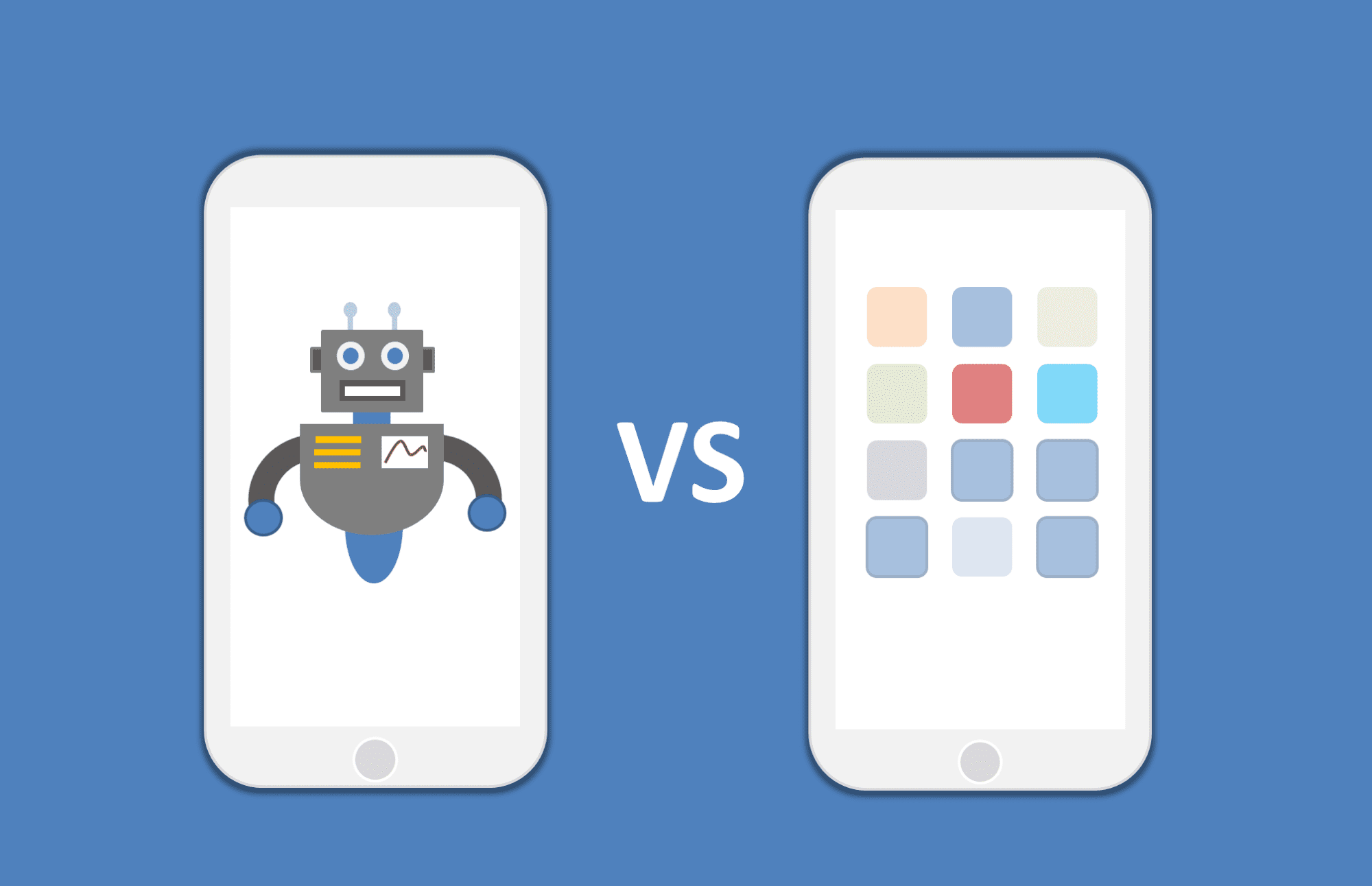 Time
Chatbots are accessible through websites and are visible to search. More often than not, chatbot development takes less time than mobile app development. Developers use services such as SnatchBot or Sprout for creating a chatbot with multi-tasking functionality.
Feasibility
By following simple logical steps and by understanding the customers' requests through a series of text messages, the bot guides the customers to their requested services. If a new request has been made by a customer, the request will be added to the wish-list and shall be brought to the attention of customer service/support staff team. The support staff analyses the request. If the requested service is unfeasible, the support staff politely mention the unfeasibility of the idea to the customer. While discussing the feasibility of the idea, the support staff approach the community of developers.
Funds
Creating and launching a chatbot will be easier than releasing funds for app development. There are some other reasons for adopting chat-bots in the first place. According to an IT research, in the coming years, the computer and Smartphone conversations shall start with chatbots. Every business company adopts chatbot technology since 75% of minor issues shall be easily solved by the bots; it is profitable and time-saving.
Many international brands and retailers still depend on their apps for small businesses. The importance of apps in the market shrinks as and when chatbots handle the requests of clients. As the adoption of social media in the market rapidly increases, you can have your business related chatbots integrated with Facebook. Not only is this time saving but also inexpensive.
There are many chat-bot development agencies which help entrepreneurs set up their online businesses. Instarama.net is one of them. Instarama.net has a team of professional web developers, mobile application developers, and chat-bot developers. Their growth hacking team has immense knowledge of e-commerce, digital marketing, push notifications, learning management software etc. They are known for their reliable and cost-effective services.
 Why should you trust a chat-bot development agency to develop your bot?
After the introduction of chat-bots, many agencies which create and develop chat-bots have been set-up. Many agencies are known to offer free services. In this situation trusting an agency for the development of bots that cater to your requirements will not be an easy job. Chat-bots are powerful interfaces which can go beyond your expectations. A brief study and better testing is needed before striking any business deals with chatbot development agencies. There are many factors to be considered while hiring a chat-bot agency.
Outsource
 Every individual or company may not have sufficient time for the design and development of bots. For many start-ups, using bots to facilitate customer service might be a simple experiment. In such a situation, chat-bot agencies will be a great solution. Also, hiring a single developer to develop bots may not be a viable option as excessive reliance on a single soul may result in too many problems. Hiring an agency for this job might be expensive, but it faster and is worth full of every buck you invest.
Experience
Chat-bot agencies such as Instarama.net have knowledge about the design and development of bots and a lot of experience. This is the main reason why you should trust chat-bot agencies. Chat-bot agencies shall solicit each and every single detail regarding the bot. This typically involves the type of products to be sold, target audiences etc. According to your requirements, they build chatbots which run smoothly. Chatbots developed by Instarama can handle a lot of customer queries. Thanks to their aeons of experience, the agencies guide you throughout the development process of your bots, especially with reference to parameters such as the personality and the type of conversation the bots should have with customers.
Integrations
Adding social integrations such as account linking, CRM, domotics (home automation) etc., will help in tracking the movement data and improves the business relationship with the customers. Without these integrations, the bot is nothing but a website which contains a heap of information about the listed products.
Research
A proper research should be done before hiring an agency. Agency should have a history of designing public bots. Read the customer reviews and testimonials. Speak to the support staff of the agency. Get your doubts sorted. Negotiate with them and seal the deal.
Success of chat-bots over mobile apps
Facebook also took a step forward towards e-commerce business through Facebook chat-bots. Facebook chat-bot development team gave an official name to it as the messenger chat-bot. The CEO of Facebook explained that with Artificial intelligence (AI) as its working language combined with human help, one can talk with the Facebook chat-bots. Through the messenger chat-bot, one can do more than just texting. Hotel reservations, air tickets booking etc., can be done through the e-commerce inclusion in the bots.
Developers can build their personal Facebook messenger chat-bots by working with co-workers. However, there is a caveat with Artificial Intelligence. Facebook bots- Bob and Alice were forcibly shutdowns because they started communicating in a language which couldn't be comprehended by humans. Artificial Intelligence has its own perks and its own set of perils. 
Development of mobile apps using Facebook chatbots
With the advancements in Artificial Intelligence, demands for chat-bots have increased rapidly. Here are a few popular chat-bots:
It is an Artificial Intelligence powered bot. It helps in getting things done through a quick chat.  Not only can it do general actions such as booking bus and movie tickets, recharges, bill payment but also complex actions such as inter-bank transactions etc.
A messenger chat-bot which helps people in getting answers regarding health issues from the physicians across the globe, for free of cost.
It is called as weather cat. This chatbot helps in giving suggestions on the clothing you should wear on that particular day after analyzing the weather conditions.
It is a Facebook messenger chatbot which categorizes the news according to your interests
It is a messenger chatbot which makes the everyday conversations interesting by creating appropriate memes.
Conclusion
The race between the mobile apps and chat-bots has become more intense nowadays. Each has its importance, but after comparing the pros and cons, chat-bots outwit mobile-apps. They play a major role in enabling better conversation and maintaining a relationship with the customers.
If you have any doubts or concerns, feel free to drop a line or two in the comments section. I shall reply in a day or two. Keep watching this space to learn more about facebook chatbots and messenger chatbots. Subscribe to our newsletter to keep yourself abreast of facebook messenger chatbots. My best wishes are to you and your venture. Cheers!